While Microsoft offers a few different ERP options, EFOQUS tends to favour Microsoft Dynamics 365 Business Central as our ERP of choice. We find that for most of our clients, Business Central is by far the most appropriate solution to meet their needs. Having made the move from a Dynamics NAV-focused organization to cloud-first organization fairly early on, we're clearly not set in our ways. We're always looking at what the future of Business Central will bring so we can be ready, and so that we can ensure our clients are ready too.
Part of keeping up with what's new in Business Central is attending Microsoft events and conferences. Our co-founder and managing partner, Erik Hougaard, attended the 2022 Directions EMEA conference in Hamburg, Germany. This Partner-centered conference was a great opportunity to connect with other Microsoft Partners and discover what's new and coming up from Microsoft. In addition to delivering his own session (all about AL hacks), Erik was able to take in the keynotes and even have a meeting with the general manager of Business Central to learn about the future of the platform.
The Power Of Business Central
Although many of us are leveraging cloud solutions on a daily basis, it's still impressive to step back and appreciate how powerful the cloud has become. The sheer scale of Business Central's performance, especially when it comes to hardware resources and throughput is astounding. 99.84% of session minutes are served by machines running within the target capacity, while 99.96% of the databases are running within the target capacity.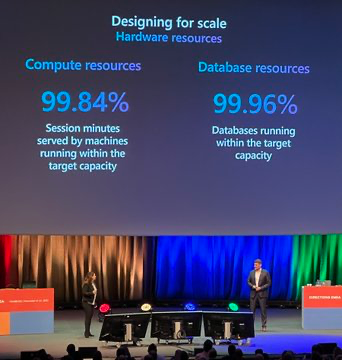 Even more impressive was the fact that of the over 5 million API calls per day, 90% are completed in under 250 microseconds, and only 1% take over 5 seconds. These numbers speak to the incredible power that the cloud has to offer, and is just a further indication of the value of moving to cloud-based ERP like Business Central.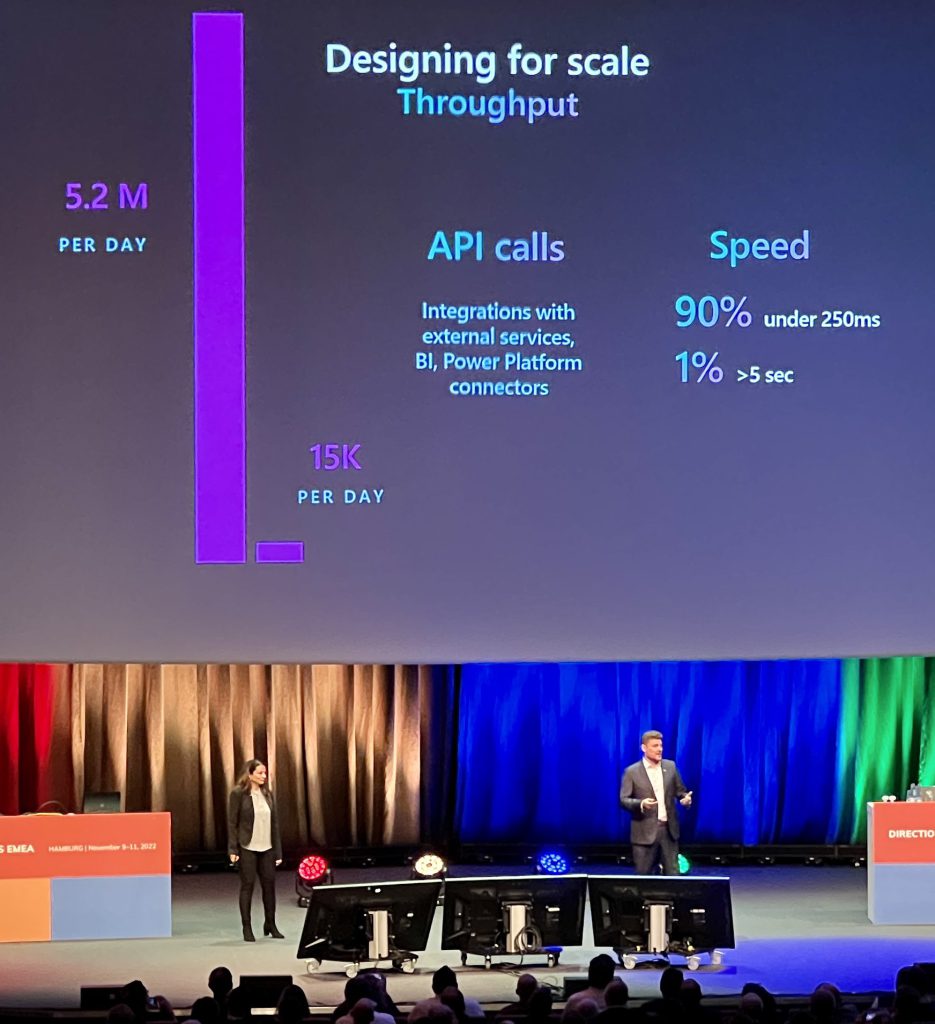 The Future of Business Central
With the impressive state of Business Central today, what's next for the app? Whilst in Germany, Erik had a chance to sit down with Mike Morton, the head of Business Central, for an interview. In his chat with Erik, Mike Morton revealed that Microsoft will be continuing to invest in Business Central. He outlined the three main spaces he hopes to focus on:
Improve App Architecture
With so many events and so much extensibility in Business Central, special attention must be paid to module-izing and building upon the extension model they currently have to make it more robust.
Enable More Customization without Code
There are many common scenarios, like adding a field to a view or changing how data is sorted, that are currently not possible with out-of-box Business Central. You can get third party apps that allow you to achieve these changes, but allowing end users and Partners to make the customizations they need to without having to hire a developer or use an app is a focus.
Continue to Make the App Better
As you know, Business Central is already one of the standard-setting ERP software options, but there's always room for improvement! The Business Central team knows that while their app is already great, they have a lot of ideas to make it even better. This means improving existing experience and functionality, adding new modules, and always thinking of what's next. With continued investment, they're excited about the future of the Business Central app.
EFOQUS – Your Go-To Business Central Partner
Finding the right Business Central Partner can be daunting – you need someone that fully understands your needs and can will work with to make sure they're met.
Take a deep breath, because EFOQUS is here to bring the 'deep exhale' feeling to you while helping your organization increase the agility, capability, and scalability of essential systems. As your ideal Microsoft Partner, we take the customer-centric approach to understanding your unique business. We deliver pragmatic applications and business solutions while helping your SMB achieve more. Get in touch to learn more!