My first Summit!
Community Summit North America 2022 was my first trip since Covid-19, and it felt amazing! Several partners and clients of EFOQUS would be there and I was excited to see how the community would react to our new colours and branding. My travel companion, EFOQUS co-owner and mentor, Erik Hougaard, was lined up with 4 sessions over 3 days as well as NAV doctor commitments. It's not often you get a full day of travel with "Mr. MVP" so I hit him up with my usual random questions, which (I think) he felt was amusing, and it helped pass the time through our Vancouver to Denver to Orlando journey.
It was my first time in the Southeast of the US and that Florida sun, palm trees, and alligators didn't disappoint. Registration was a breeze with the rockstars behind the counters making us feel welcome.
The event kicked off with the Welcome Reception on the grounds of the Gaylord Palms Resort in Orlando. My first task was to grab a White Claw and work the crowd of this 4,000-person conference and work, work, work I did. I met with our closest partner friends from Microsoft, Insight Works, Contina, Binary Stream, Sana, Avalara, Dynaway, New View Strategies, Jet Global, ExpandIT, eOne, Varis, and EVO payments. All this while reaching for the occasional hors d'oeuvre.
Community Summit North America Day 1. Super busy, quality conversations with prospects and partners around our Apps, specifically SharePoint Connector, Advanced Cloud Security and Advanced Financial Reporting. Wish they came around with food. God bless our fellow exhibitors for the popcorn, pretzels, and champagne. Finished the night with devilled eggs and ahi tuna crunch at Wreckers, the sports bar at the hotel.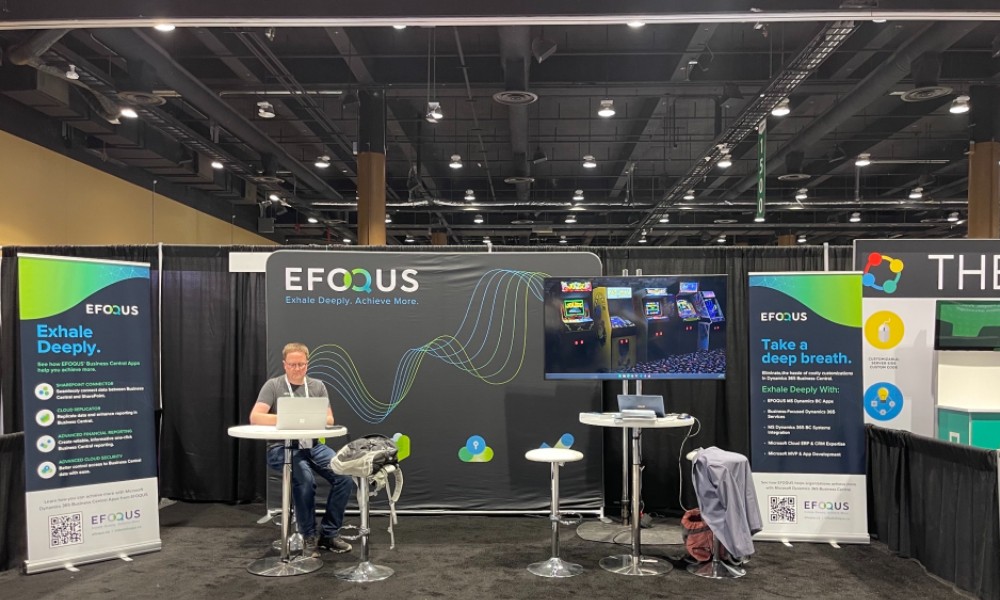 Community Summit North America Day 2. Busier. Erik was giving demo after demo. The NAV/BC medics were directing traffic to our booth for page/field level permissions. It was my first time seeing his simple app developer for Business Central and was blown away. Bumped into some old friends that now work at other partners, was awesome to catch up. As the night was winding down, I couldn't help but feel proud of the Dynamics community and the people and resources behind making Summit happen. I enjoyed a meal with our friends at Varis then finished my trip with a visit downtown, a stroll down East Jefferson Street in the Entertainment district, sampling a few bars and Parlay Orlando to enjoy really get down and get that proper Florida experience!
Had a blast, look forward to the next one.