I had the pleasure of attending Community Summit North America 2023 in Charlotte, North Carolina last week. It was my first-time visiting Charlotte, North Carolina, and I was taken back by the natural beauty and vibrancy of the city.
About Community Summit
For those that don't know about Community Summit, it's an annual, immersive 5-day end user and customer conference sponsored by Microsoft and the best partners and software (ISV) vendors globally. With 10,000+ attendees, Summit is the largest independent gathering of Dynamics users in the world and has a lot to offer. Product tracks include Dynamics 365 F&O, CE, Business Central, Dynamics GP, Dynamics SL and Power Platform. The content is tailored towards people considering Dynamics, new to Dynamics, migrating to Dynamics and wanting to optimize Dynamics.
This year, attendees could attend keynote speeches for updates and direction of Business Central, choose from 500+ expert-led courses on their favourite topics, ask questions to an expert panel of Business Central gurus (including our very own Erik Hougaard), or walk the 20,000 square foot Expo Hall to meet with the top ISV vendors from around the world, to better understand how their use cases could be solved with the vendor's software. From AP automation, to eCommerce, sales tax automation to Power Apps experts, the Expo was well represented by the AppSource legends!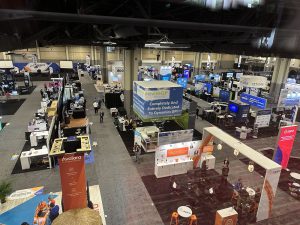 EFOQUS' Role at Community Summit 2023
My primary duty at Community Summit this year was to run our EFOQUS booth (519), and to meet with our partners, resellers, end customers, and contacts in the industry. Over the course of 5 days, I enjoyed great conversations with the Microsoft Dynamics GP and Business Central community on important topics like GP to Business Central migration, utilizing Business Central, solving issues, and improvement opportunities.
I also got to speak to several Erik Hougaard fans at our booth! As a highly sought-after speaker, Erik presented three sessions at Community Summit this year, sharing insights on:
How to build a complete Business Central application in 90 minutes
Business Central and AL updates
Development Q&A session
He'll also be speaking back-to-back at Directions EMEA 2023, a conference for SMB-focused Dynamics Partners to get product knowledge about Business Central, Power Platform and Dynamics Sales, so keep an eye out for that.

What's Next for Community Summit North America?
Next year's Community Summit North America is going to San Antonio, Texas and is expected to be as big as ever. Thousands of professionals working with, or considering Dynamics, are expected to attend from various departments and industries including accounting, finance, operations, IT, administration, and development. Learn more about Community Summit North America here.
Get That 'Deep Exhale' Feeling with Microsoft Dynamics 365 Business Central
EFOQUS brings the 'deep exhale' feeling to your organization, enhancing the agility, capability, and scalability of essential systems. As your ideal Microsoft Partner, the EFOQUS team is customer-centric, taking the time to understand your unique business needs, and delivering practical and tailored solutions to maximize the potential of your Dynamics 365 Business Central ERP investment.
If you didn't get a chance to speak to us at Community Summit but are interested in learning more about Microsoft Dynamics 365 Business Central and whether it could be a good fit for your organization, reach out to us today!